Click on this map to see a bigger version.   In 1881, eight years before statehood, this is how the county lines were drawn in north-central North Dakota: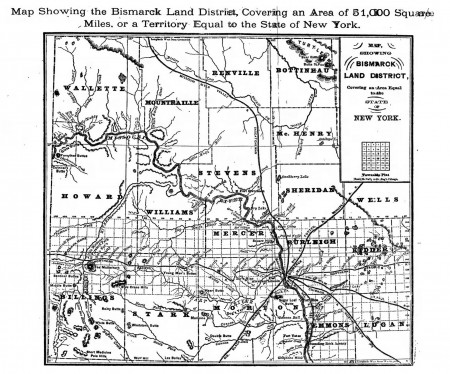 Your first question if you're familiar with this area is probably  "Where's Ward?"    Ward, home to the city of Minot, is one of the most populous counties in the state but just a few years before statehood Minot didn't show up on maps and the county didn't exist.
Ward County was created in 1885 and named after the chairman of the House of Representatives Committee on Counties (how convenient).   Portions of Stevens, Renville and "Mountraille" were merged to create what is today known as "Imperial Ward" County. Imperial Ward was the largest county in the state until 1910 when it was broken up, reforming Mountrail and Renville and adding Burke County to the north, and leaving a much-smaller Ward County to the south.  From the 7/15/1881 Bismarck Tribune.