Armour Star Beef Stew
From The Infomercantile
Jump to navigation
Jump to search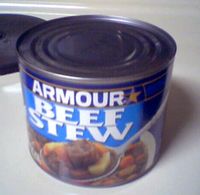 Armour® Star Beef Stew is a delicious combination of beef, potatoes and carrots in a hearty rich gravy that makes a quick and easy meal for every occasion[1]
Heating Instructions
Stove Top: Heat in covered saucepan on medium hear 8 to 10 minutes, stirring occasionally.
Microwave: Spoon Beef Stew into a 1-quart non-metal casserole. COVER and microwave on HIGH 4-5 minutes. Stir before serving.
Stew 'n Corn Bread Casserole
1 cup green pepper, cut in 1/2-inch chunks
2 tablespoons butter or margerine
1 24-oz can Armour® Star Beef Stew
1 15-oz. can kidney beans, drained
1 8 1/4ox can tomatoes, chopped, drained
2 tablespoons chili powder
1 15oz package corn bread mix, mix according to package directions
Heat oven to 425° cook green pepper on butter or margerine 5 minutes; drain. Combine green pepper, stew, kidney beans, tomatoes, and chili powder; pour into lightly greased 13x9 inch baking dish. Spread corn bread on top. Bake at 425°, 20 minutes. 6-8 servings.
Ingredients
Water, beef, rehydrated potatoes, carrots, food starch-modified. Less than 2%: natural flavors, wheat flour, salt, oleoresin of paprika, caramel color, dextrose, monodosium glutamate, soybean oil.
The can contains 24oz / 1lb 8oz / 680g of stew.
Contact Information
Distributed by Pinnacle Foods Corporation Cherry Hill, LJ 08002-4112 USA
Questions or comments are directed to call 1-800-528-0849
For recipes, cooks are directed to visit Armour Star's website at www.Armour-Star.com
UPC Code
017000033853
Miscellaneous Label Content
"Satisfaction Guaranteed", "Made in USA", "US Inspected and passed by Department of Agriculture EST. 2AD"