Burnette G Pletan, World's Fastest Artist
From The Infomercantile
Jump to navigation
Jump to search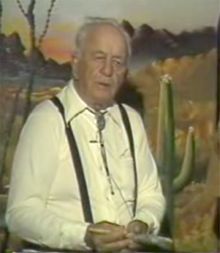 Burnette Pletan (playt-un) b.8/24/1910 - d.3/21/1991, the self-styled "Fastest Painter in the World".
Pletan started painting in 1932 after an artist visited his parent's farm, and Pletan decided he could be a painter himself. Self-taught, Pletan said (or possibly joked) that when he started painting he did not know that artists had special brushes, so he used regular house-painting brushes for his art.[1] Whether a joke or not, that style of brush was the implement Pletan used the most, as demonstrated in two videos in the 1980s:
Pletan painted for sixty years, his style varying only slightly over time. Travelling the country, he sold his works everywhere, painting them on the spot and selling them barely dry. He gained enough notariety to have works commissioned for the likes of the Paul Harvey and the King of Norway.[2]
Family
Pletan was born in 1910 to Gunder and Selina Pletan in Wendell, Minnesota, the only son with three sisters: Gladys, Verna, and Judith.[3] It does not appear that Pletan ever married.
Artistic Style
Identifying materials:
Masonite 'canvas';
Acrylic paints;
In later works, day-glo spraypaint.
Pletan's style largely involves mixing several colors on a single wide-bristled paintbrush and drawing lines and smears on a Masonite backing, mixing the color as he goes. The thick brushstrokes and heavy application of paint makes for a exaggerated texture on his 'canvas', and the lack of working the paint (mostly due to the fast-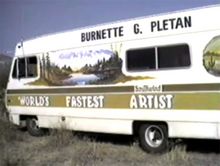 drying acrylic paints) creates an expressionistic fluid motion in his art. The style is amateurish compared to finer art, looking somewhat like a student of the Bob Ross school of art but painted with a 4" brush held in the fist. Still, Pletan's art has an certain "outsider art" appeal, as his style is immediately recognizeable, and his 'how to' video has taught imitators his craft.
Pletan's artwork relies on a few standard vignettes, usually a mountain lake, a snowy mountain pass, or a desert river. Nearly all include some sort of fauna, mostly deer but occasionally a person. By not expanding his repetoire of subjects, Pletan's art was a rote process with creative flairs on a smaller scale, such as the positioning of trees and deer. This makes his various paintings almost indistinguishable, except for close scrutiny of the small details.
By reducing brushstrokes to a minimum and sticking to familiar subjects, Pletan was able to produce paintings at a breakneck speed, from five to ten minutes for an average sized (around 16" x 24") painting. The size of Pletan's paintings depended only on the miscellaneous cuts of Masonite canvases, which resulted in his paintings being almost universally non-standard in size.
Pletan's earlier works contained greater detail than his later works, due to his deteriorating coordination. Later works are 'messier,' due to shaky hands, but retained his signature style of painting.
Signature
All Pletan's paintings I've seen, his signature is quite large, in one of the lower corners, and is drawn by dragging the blunt end of a paintbrush through wet paint. If the painting had already dried, Pletan would add a smear of fresh paint to scratch his name in. The format is always "Pletan (year)", making his artwork and its year of creation extremely easy to determine.
Value
Since I wrote an article featuring Pletan for Collector's Quest[4], I'm often asked what the value of a Pletan work is. Pletan claimed numerous times[2][1] to have painted over 100,000 works in his sixty years, so his paintings are not overly-rare, but their reputation (sometimes deserved) as 'starving artist' paintings reduces their overall value. One painting I own was purchased directly from Pletan in the 1980s by my great-uncle, but I'm not sure how much he paid; the other two were purchased at a garage-sale for next-to-nothing. Sellers on eBay and elsewhere have asked for several hundred dollars for large framed Pletan paintings, but they do not appear to have sold at that price. I'd expect, as of fall, 2007, the smaller works to sell for $20-$50, larger one for $70-$150. In my opinion, these prices are low for an original work by a recognized (although obscure) artist, but demand is low and the paintings are not particularly rare.
References
↑ 1.0 1.1 Pletan performing a very entertaining 'Bob-Ross' style how-to-paint, YouTube (actual creator unknown), retrieved 10/2/2007.
↑ 2.0 2.1 Burnette G. Pletan, Fastest Artist in the World, B. Amundson, ExpressoTILT!, retrieved 10/2/2007.
↑ Obiturary of Judith Sonmor, nee Pletan, Fergus Falls Daily Journal, 12/8/2005.
↑ "Art on the Outside", Derek Dahlsad, Collector's Quest (site down), 6/22/2006. mirror