Images Of The Armour Plant, West Fargo
From The Infomercantile
Jump to navigation
Jump to search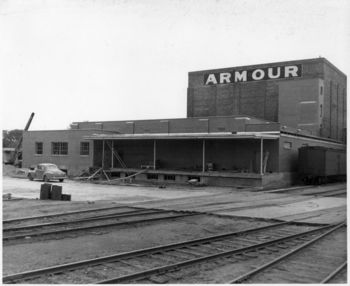 The Armour Packing Plant was a large meat processing plant in West Fargo, North Dakota, providing a base for the economy and a mascot (the "Packers") for the high school football team. Armour began to decline post-WWII, changing its name to "Dial Corporation" to favor its soap line, and through mergers and sales the current meat-products were sold to Pinnacle Foods and are marketed under the "Armour Star" brand.[1] In 1959, due to declining facilities, Armour shut down West Fargo operations and closed the meat packing plant.[2]
These photos were purchased at auction, loose in a box. Some had captions, which are included in the image description, but many were included without any context. The primary focus appears to be the wastewater treatment systems, and most of the notes indicate the images were meant to document the work. They could possibly ave been produced for a portfolio of work, or for internal documentation of how the structures were completed.
Prior to the wastewater treatment plant, the Armour factory dumped its waste directly into the Sheyenne River, which flows through West Fargo. Farmers downstream of the offal filed lawsuits against Armour, resulting in the construction of the treatment plant.[2]
References
Gallery