Ayr, North Dakota
From The Infomercantile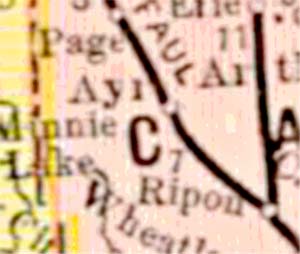 Ayr, North Dakota is a small town in east-central North Dakota approximately 20 miles from
Fargo
. In the center of town there is an open-air 'museum' of old town buildings.
According to the book Origins of North Dakota Place Names: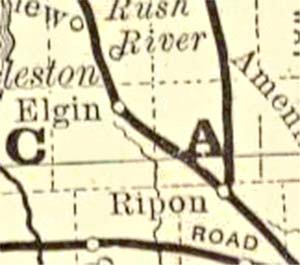 A Great Northern station established for the Elgin (bonanza) Farm owned by Thomas Park of Harrington, Elginshire, Scotland. He named the station Elgin on July 27, 1883 and platted it on the SW¼ 11-141-54. Another station in Dakota Territory had previously been named Elgin, so the territorial legislature in March 1885 changed the name of this Scottish settlement to Ayr for the home of Robert Burns, Scottish poet of Ayrshire, Scotland and several local settlers. The post office was established in Jan 7, 1884 with Frank H Dickinson, postmaster. Ayr was incorporated as a village in 1926.
Cass County Pioneer Village
The Cass County Pioneer Village was assembled by Keith Johnson of Ayr, in memory of his deceased son, Lonnie. The buildings are either original or Ayr or moved from the nearby area. While access to the building interiors appears to be 'by appointment,' the museum grounds are not fenced and are easily accessible. In 2007, Johnson was nominated for an Excellence in Local History Award by the State Historical Society of North Dakota for his work on the Pioneer Village[1].
Keith Johnson passed away on April 11th, 2012[2]. On June 29th and 30th, 2012, an auction sale was held by Steffes Auctioneers, selling off the buildings, cars, and other items from the Pioneer Village[3].
References
↑ http://www.nd.gov/hist/news/histconfawards07.htm - "AWARDS HONORING HISTORY ACHIEVEMENTS PRESENTED AT GOVERNOR'S CONFERENCE ON NORTH DAKOTA HISTORY", State Historical Society of North Dakota, 10 November 2007
↑ Boulger Funeral Home website, retrieved 6/29/2012
↑ Steffes auction website, retrieved 6/29/12