Category:Homes of the Movie Stars, 1940
From The Infomercantile
Jump to navigation
Jump to search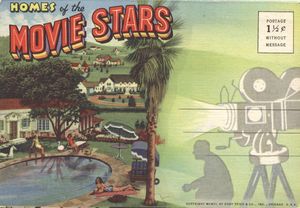 This postcard was published by Curt Teich & Co., of Chicago, IL, in 1940. The postcard included a fold-out center with 18 photos of various California homes of the top film and musical artists of the time.
Media in category "Homes of the Movie Stars, 1940"
The following 7 files are in this category, out of 7 total.