Howard Binford
From The Infomercantile
Jump to navigation
Jump to search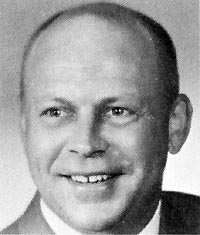 A Moorhead, Minnesota journalist and writer, who from 1971 to his death in 1989 published Howard Binford's Guide, a what-to-do-in-town magazine distributed freely at many area locations. Prior to publishing the Guide, Binford was a writer with the Red River Scene[1] and taught journalism at the Moorhead State College[2].
Profile
This profile comes from the June 1984 issue of Howard Binford's Guide.
Binford, a native of Luverne, Minn., graduated from Moorhead State Teachers College in 1950. He was an editor of the Moorhead Daily News and the Red River Scene before spending about 10 years in sales, primarily with Rusco Window Company.
Then, he taught for four years at North Dakota State School of Science in Wahpeton before joining the Moorhead State University faculty in 1966 when the Mass Communications Department was launched with him as the first journalism, advertising, and public relations instructor.
Later, he taught journalism classes for three semesters at Concordia College where he has been extremely active in the C-400 Club.
Binford received the silver medal award from the Advertising Federation of Fargo-Moorhead in 1973, Marketer of the Year from Fargo-Moorhead Sales and Marketing Executives in 1978, Outstanding Business Leader Award from North Dakota State University in 1979 and James C. Acton Award for excellence in journalism from Fargo Eagles Aerie in 1979.
From Concordia, he has been presented the President's, Regents, Founders, and Soli deo Gloria Awards.
He was recently elected to the board of directors of the Fargo Chamber of Commerce.
He and his wife, Beatruce, an English teacher at Ben Franklin Junior High School in Fargo, live at 3206 Rivershore Dr. in Fargo.
References
↑ Series of newspapers covered Moorhead, The Forum - 09/27/2003:
"The late Howard Binford, who wrote for the Scene, became its editor under Meyer, then published the popular free-distribution Howard Binford's Guide."
↑ Greetings Sent to Marv Bossart, MSUM Website by Bruce Edlund, 31 January 2007:
"I, too, was one of the early Mass Comm students at the then Moorhead State College. In fact, there were only two classes offered. One in newspaper writing taught by Howard Binford and the other a beginning photography class taught by someone whose name is now long forgotten."