Osgood, North Dakota
From The Infomercantile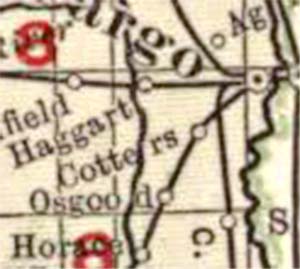 Osgood, North Dakota consisted of a small Northern Pacific railroad station several miles southwest of Fargo, in the northwest quarter of section 33, township 139, range 48, established in 1900. The station was named for George E Osgood, a pioneer who settled in this area in 1878. The station remained until 1951.
[1]
Osgood Addition
For fifty years the land was unoccupied, except for famland. In 2004, the City of Fargo had grown far enough to the southwest to envelop section 33-139-48, naming it after its former town name, "Osgood Addition". [2]
↑ http://www.ci.fargo.nd.us/Residential/YourNeighborhood/KnowYourNeighborhood/Osgood.aspx, retrieved 8-1-09, City of Fargo website.