The Pennsylvania Report Scrapbook
From The Infomercantile
Jump to navigation
Jump to search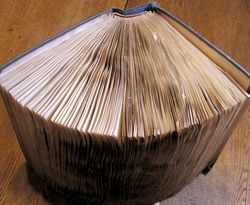 The Pennsylvania Report Scrapbook is a book we purchased at an estate sale. The actual book is titled "Pennsylvania Report of the Superintendent of Public Instruction, 1895." The only content that remains of the original book are the pictures. All other pages were used for a scrapbook; images cut from magazines or other books have been pasted over nearly every page in the book, resulting in this Scrapbook.
Images From The Book
This is a sampling of images from the book; more may be scanned as time passes.