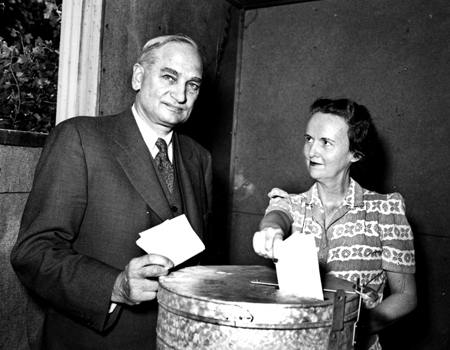 That cool cat up there is "Wild Bill" Langer, voting in the 1940 election that would send Mr. Langer to Washington.    Nothing was ever easy for William Langer: when he got to Washington, Congress refused to seat him.  They cited a history of lawbreaking, bribery, an attempt to secede from the United States, felonies, and general ethical shortcomings as reasons why he was unfit to be a Senator.
Wait, back up a bit:  sedition?  Yup, as you'll hear in my Dakota Datebook for today, Langer decided nobody was going to remove him from office, so he called out the National Guard and proclaimed that North Dakota had declared independence.   His intentions are a bit clearer when you combine the two; just signing a Declaration of Independence for political reasons isn't all that remarkable.   However, Langer claimed he called in the National Guard because of protestors around the capitol grounds.  His executive order, however, covered the entire state.   When the leaders of a developing nation, fearing a coup through the courts, call out the military, declare martial law, and issue a declaration of independence, the international news starts to declare either fascism or rebellion.
In Langer's case, all was forgotten the next day.   Even the Congressional records of his Senate hearings only briefly cover his Declaration of Independence.  The biography The Dakota Maverick barely mentions the event.  It's almost like people would rather forget that Langer got that close to really following through on his intentions.
Whenever the U.S. has been heavily divided politically, the secessionists come out of the woodwork.  There are currently a number of active secessionist movements operating in the U.S., from Hawaiian royalty to white supremacists to Native Americans.  Some of it is honest interest in establishing an independent nation, but much of it is rhetoric to emphasize how important a policy or stance is to the group.   They believe in their position so much they are willing to leave the United States to prove how important it is.
In this way, Langer was late to the came with secessionist talk.   Two years earlier, North Dakota state senator William Martin passed a resolution to advocate for secession — not just North Dakota, but a huge chunk of the west.   His motivation was due to percieved abuse by Eastern financial interests of the poor western farmer, who had been hard hit by the Depression and hadn't recovered despite the banking industry's rebound (sound familiar?).   Here's what Martin's US would look like: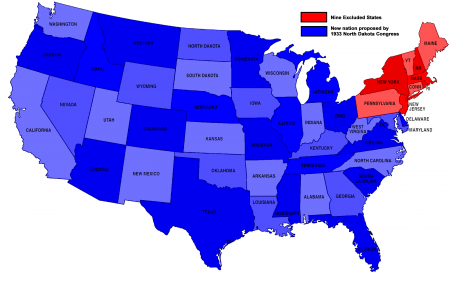 This is pretty clearly more about making a point than creating a functioning nation;  Martin knew it, and when the national news started calling his motion sedition, he downplayed it as rhetoric.   Martin's archives at the State Historical Society are almost 100% letters of support from around the U.S., thanking him for pushing his opinion through a secessionist statement, because people stood up and paid attention.
The difference between Martin's secessionist motion, or the micronation movements, or actual seditionists, is the lack of power.   Few have any actual position of power to actually put secession into motion.  They need a leader, with financial and military power, to back their separation.
This is why Langer's secession should have been more terrifying than any other secessionist movement:  Langer had a vibrant set of followers in his wing of the Non-Partisan League; he had power over the National Guard and support form the leaders in the Guard; the Bank of North Dakota and the State Elevator both put the state itself in a position of economic power.    When Langer and his followers signed the Declaration of Independence, the Supreme Court hadn't yet filed their motion to remove Langer from office.  "Wild Bill" Langer was entirely in power, with all of his assets and support, when he declared independence.    Of all the United States secessionist movements that have gotten close to actually getting their way, Langer did them one better:  he actually had the power to execute it and then actually did it.