In December, 1952, Collier's Magazine made the USS Nautilus its cover story. Nautilus was the first US nuclear-powered sub, and it set record after record during its time at sea. The date of the Collier's article, however, is a clue to this picture's origin. Construction on the Nautilus started 14 June 1952, and the ship wasn't seaworthy until 1954. The design for the sub was definitely in existence, but the ship itself was still a few years away. With the help of Rear Admiral Homer N Wallin, Collier's was able to assemble an excellent description of our newest not-so-secret weapon.
The above image has to be enlarged to be appreciated; the detail is tremendous, and I'd bet the original was huge. The diagram spanned two pages, from edge to edge. I find it a bit disconcerting that the area marked "nuclear lab" is right next to the galley, but I'd imagine that this artist's rendition isn't completely accurate; it does closely resemble the map seen here, though. The article gives quite a few details about the Nautilus' capabilities, no doubt as a show of US power and induce fear in our enemies of the surprise attack from such a formidable opponent. The details in the diagram above do show a bit more than I'd expected — in the room marked "Crew's Quarters", the following detail is shown: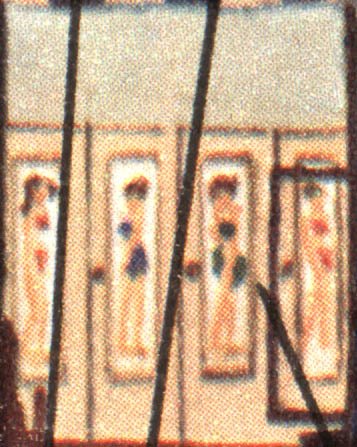 Yes sir, our red-blooded sailors, spending months cruising beneath the choppy waves, will enjoy the companionship of the all-American pin-up gal (nsfw). Maybe the artist was far more truthful about the submarine's nature than I thought.