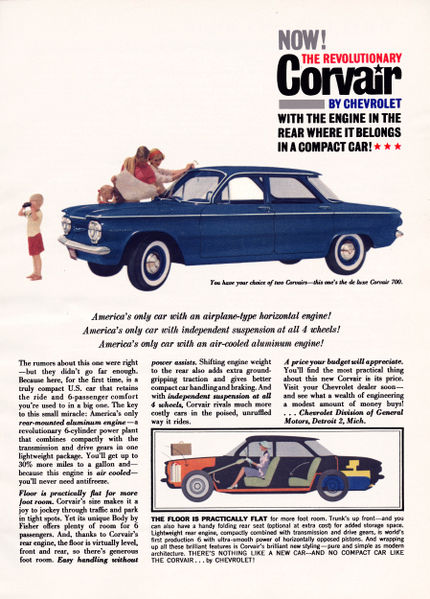 America's only car with an airplane-type horizontal engine!
America's only car with an independent suspension at all 4 wheels!
America's only car with an air-cooled aluminum engine!
This ad for Chevrolet's Corvair from 1959 shows just how advanced the little car was — largely inspired by the Volkswagen, the Corvair put an ample air-cooled engine inside a compact body (although a bit larger than a VW), and championed it as the low-cost car of the future. Compare to the Corvair's contemporaries of the late 1950s: big steel behemoths with cast-iron monstrous engines up front where they belong. The Corvair's competition was almost entirely European imports like the VW, Volvo, and Porche, so Chevrolet was carving a new market for their vehicles, feeding American steel to the customers in need of a good 'ol American machine, and something small and efficient for people looking for something more manageable.
The Corvair, as Mr. Nader will gladly tell you, was a victim of its advanced design — that fancy suspension in the ad was prone to causing catastrophic accidents, and the rear-weighty engine location caused steering issues for drivers. Deaths, sadly, result in distrust for the new technology, and despite a much-too-late redesign with the '64 models by '69 the car was done. Rear-engines in American cars never really went far; the Corvair was one of the last, although Pontiac (who had also tried a rear-engine with their Polaris prototype) went with a mid-engine in the Fiero, and Pontiac's ex-designer John DeLorean put a rear engine in his DMC 12.