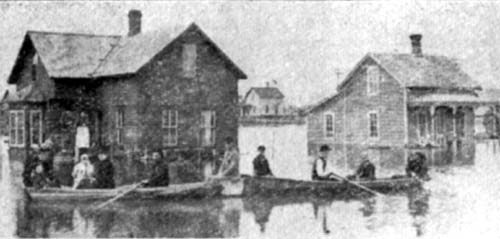 Click for full image
Today, Fargo-Moorhead is readying itself for an unbelievable 40ft+ crest of the Red River on Friday, and are preparing, around the clock, by filling sandbags and building dikes. Twelve years ago we had another huge flood which filled some neighborhoods with water, a
hundred year flood
so to speak. In fact, a hundred years before that hundred-year flood was the 1897 flood, seen above: floods of this type weren't completely unusual — urban renewal cleared out the most flood-prone neighborhoods during the 1970s on both sides of the river, which had been routinely inundated whenever the river got high. The area of Moorhead in the photo above, however, is still on high ground and is residential:
the building on the left seems to still exist
, while the one on the right does not.
The USGS believes the 1897 flood hit the 40-foot mark as well
.