Posts Tagged 'downtown fargo'
Thursday, March 12th, 2009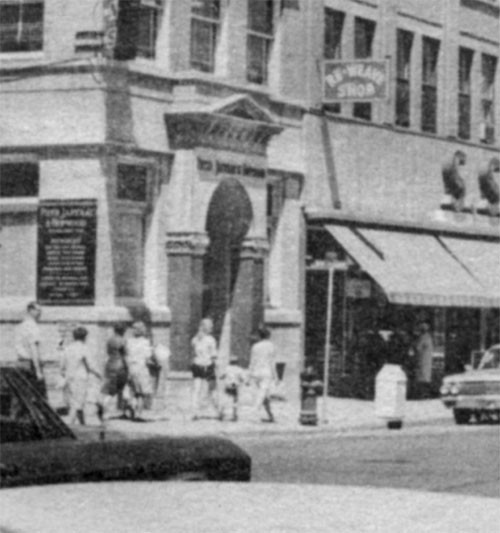 Click for full image
The corner of Broadway and NP Avenue, looking north, in downtown Fargo. Early 1970s.
Saturday, January 26th, 2008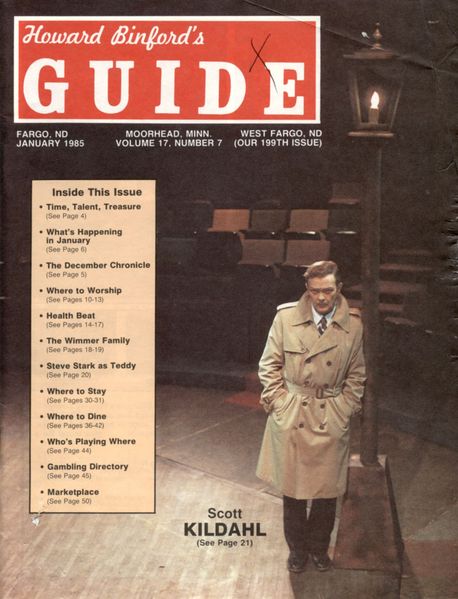 Howard Binford was a journalism instructor at Moorhead State University when he started his magazine: Howard Binford's Guide, a free publication for tourists or other non-locals providing handy lists of places to eat and sleep, who's performing in town, and other things of interest in the Fargo-Moorhead area. The magazine ran from 1968 until Binford died in 1989, with some changes throughout (as you'd expect in over 20 years of publishing), but the magazine kept its content and tone through the years. The magazine was sold to Kaye's printing in 1986, and after Binford's passing Kaye's continued publishing as "Fargo-Moorhead Magazine" — after which they, themselves, were bought by the Fargo Forum. The magazine started in '68 by a teacher continues today through the largest regional publisher in the Red River Valley.
Each Guide had a profile or interview with some local dignitary; hardly a whos-who of international fame, Binford wrote about an interesting group of local religious leaders, businessmen, regional government, and amateur performers.
Saturday, January 5th, 2008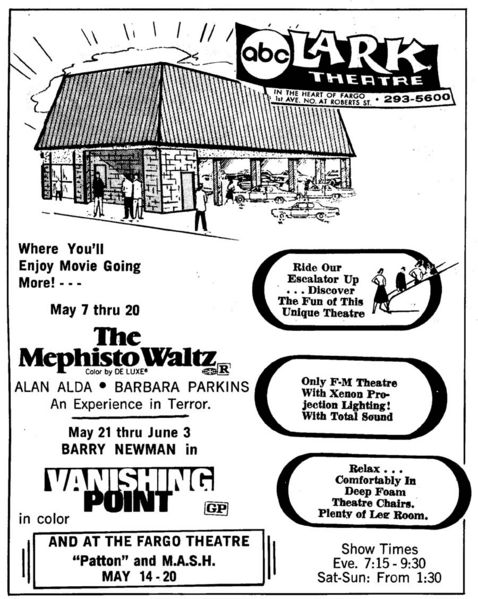 The Lark occupies the corner of Roberts Street and 1st Avenue in Fargo, one of the strange on-stilts buildings in Fargo designed to maximise parking space. The last time I was in the Lark was the Cinema Grill auction. The building had been vacant through the 1980s, but in the 90s a company reopened it as a dinner-movie-theatre. I'd seen one movie there, but that was it — the films appeared to be VHS projections, as opposed to actual film, and the lights were up enough so you could read menus, which made the screen harder to see. The food-film experiment ended in the late 90s, and a Christian church of odd repute (when I was at the auction, the church's leader spent some time telling me how 9/11 was predicted in Scripture) held services in it, and I believe is still occupying the building. There had been rumours of that block being razed to build a sports arena — a very bad idea in my mind — but that's my guess as to why the Lark is still there., waiting for a developer to come along. The ad was from a Binford Guide.