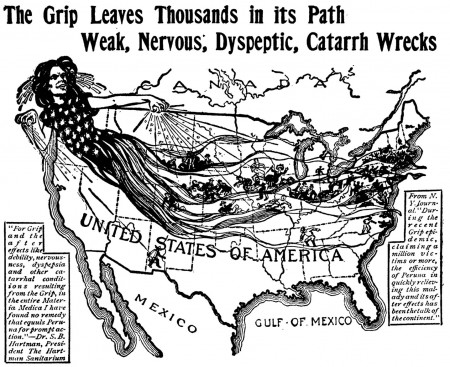 In Guys and Dolls, the song "Adelaide's Lament" rattles off any number of diseases that Adelaide might be suffering from — one is le grippe.   By the fifties, the name was pretty much obsolete: today, we call legrippe "the flu".   Catarrh is another one of those obsolete disease names, too.  It mostly just means excessive mucous — today, that's allergies or a cold.
Today, we advertise cures for these diseases with blobby green goblins, but back in 1903 the Peruna Medicine Company advertised their cures for lagrippe and catarrh with this strange vaporous banshee, spreading disease across the United States.  Well, the northern United States, completely missing the guy in the sombrero in the southwest, but they've known for a long time that Arizona is good for people with breathing problems.
Peruna was invented by Dr. Hartman — who, in the full ad, says he'll give you personal advice if his tonic doesn't work — as a cure for catarrh…which he believed to be  the cause of every other disease known to man.  Got mouth cancer?  That's catarrh of the mouth — Peruna will fix it!  So, he advertised his Peruna as the cure for catarrh, which would then cure everything else, and sold millions of little bottles of his tonic.
Of course, Peruna didn't cure the flu, or catarrh for that matter, but those self-medicating with Peruna likely didn't care — analysis of the contents of Peruna at the time of the Pure Food and Drug Act of 1906 found that the bottle contained "…1/2 pint of 90% proof spirits, 1.5 pints of water, a flavor cube and a little burned sugar for color."    So, just about 50-proof alcohol, some flavoring and coloring, or like drinking cheap spiced rum straight from the two-pint bottle.  Needless to say, Peruna didn't survive the Pure Food and Drug Act's effects, aside from resurgence during prohibition for obvious reasons,  and now lives on as the mascot of Southern Methodist University Mustangs.