Do you know Katy High?  Here she is, in 1963, with a big sash around her shoulders so she doesn't forget her name.   Sorry for the large image; that's the nature of Miss Katy High:

Katy High is not actually her real name.   This woman is 19-year-old Carol R Dettmann, Miss Tall USA 1963, from Milwaukee Wisconsin, topping out at a head-bumping 6 feet 1 inch tall.   Carol was brought on to promote a world-record-setting construction project in North Dakota, and her name is a pun.  Here's a clue as to what Miss Dettmann was promoting: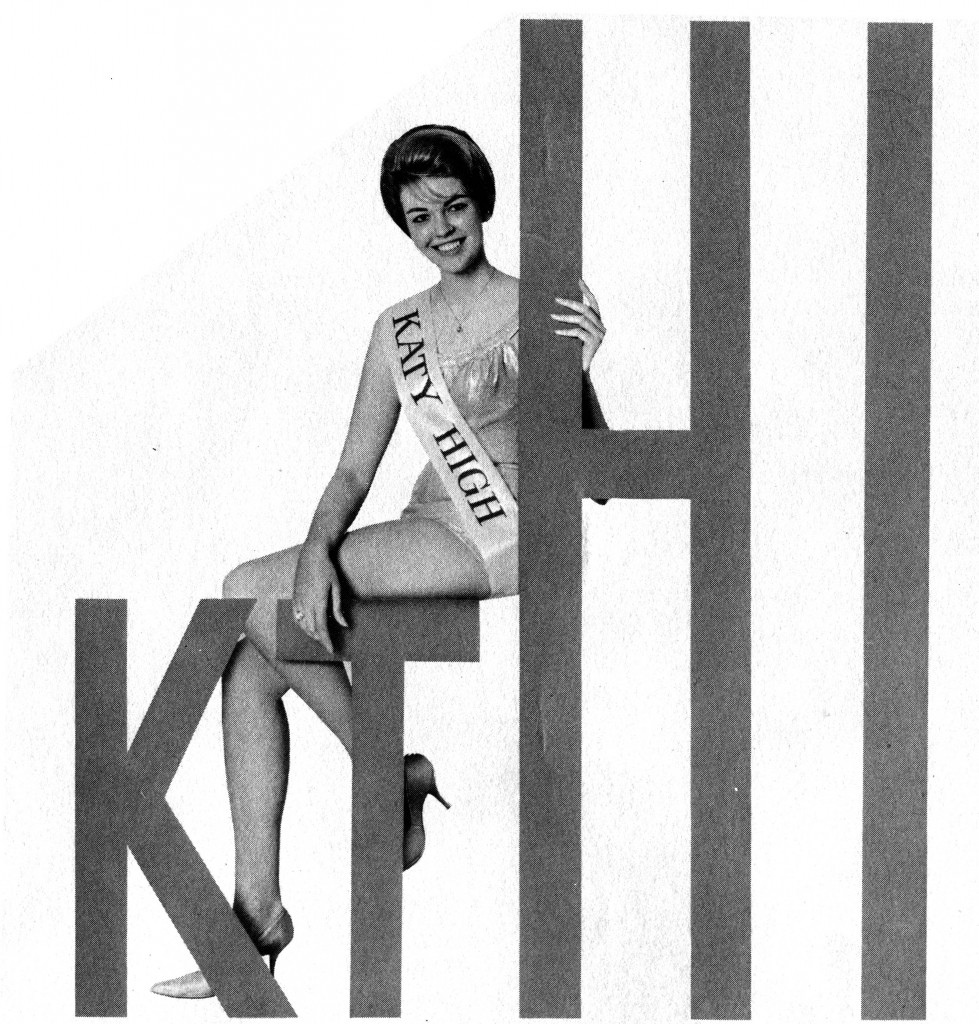 Get it?  Katy High was promoting KTHI, a new set of TV call letters that were issued in 1963.   The station had gone by KXGO and KEND, but when they came upon their plan to build the tallest freestanding manmade structure in the world, it only seemed appropriate to call themselves "HI"gh.  In most promotional materials, the call letters were written as ktHI, further emphasizing the accomplishment of broadcast engineering. The previous record was held by WRBL and WTVM, at 1,749 feet tall in Columbus, GA, but when the FCC issued the permit to KEND-TV in May 8, 1963, they set a new record, the new tower measuring up at 2,063 feet.  If you'll remember your high school measurements, a mile is 5,280 feet — so the KTHI tower is four tenths of a mile tall.  It might not seem like much, but it's twice as tall as the Eiffel Tower, almost twice as tall as the Empire State Building, and was only recently surpassed in height by the Burj in Dubai.  The KTHI tower held the record until the 1970s, when a tower was built in Poland that stuck up a little higher into the sky, but that mast collapsed in the nineties, returning the title to North Dakota.  According to the marketing material sent out regarding the tower's construction, the KTHI-TV tower is 339 Katy Highs tall (provided she's in stocking feet).
The KTHI tower is still in service, standing tall on the prairie, broadcasting to the entirety of the Red River Valley — which, in 1995, brought about another call letter change.  To reflect their service to the Valley, rather than a record-setting mast, the station changed their letters to KVLY.
Miss Carol Dettmann experienced a name change of her own: she married not long after her she visited Fargo to be the mascot of the tallest antenna in the world.