Fertile Business Card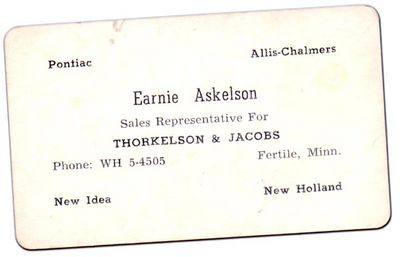 Earnie Askelson lived in the small city of Fertile, MN, one of the larger stops between Fargo and Grand Forks along US 75. During the 1950s, Thorkelson & Jacobs was an implement dealer, catering to the huge farming community in the region. As you might notice, firm lines weren't drawn between the types of machines with engines: cars were sold along with the plows and harvesters. For a small town, I'll bet this helped against spreading the expert mechanics too thin between dealerships. Thorkelson & Jacobs no longer exists --if you're looking for a Pontiac,
Christian Motors
is the GMC dealership in Fertile now.
Labels: business card, minnesota history