Charles Baxter, in his vestments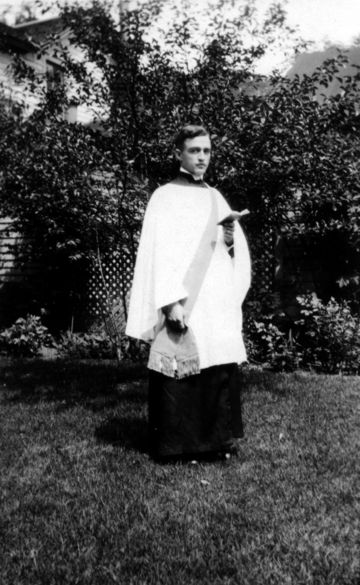 Unfortunately for Mr. Baxter, he's got too common a name for me to reliably track him down. Most photos are from the Winona, Minnesota area, so I'm fairly certain Charles hails from there.
This photo of Charles
, in his vestments, was taken in 1916 (as was
one of him out of vestments
), so my guess is he was born in the 1890s -- he's probably not around anymore, sadly. The back of the photo indicates he's wearing his "vestments", consisting of an unadorned white chasuble over a
black alb
or cassock, with a light-colored fringed stole with the
Cross Pattée
embroidered at the ends. Having the stole draped to the side would indicate that Charles hasn't completed his ordination yet -- it's worn symmetrically by ordained priests & ministers usually. His book is rather thin, and is probably a prayer-book. Vestments are similar between the various Christian lines, so I can't decisively identify his church. Still, I hope he continued his education, and got his stole moved to the center.
Labels: antique photo, minnesota history, religious photo