San Francisco, via Gray Line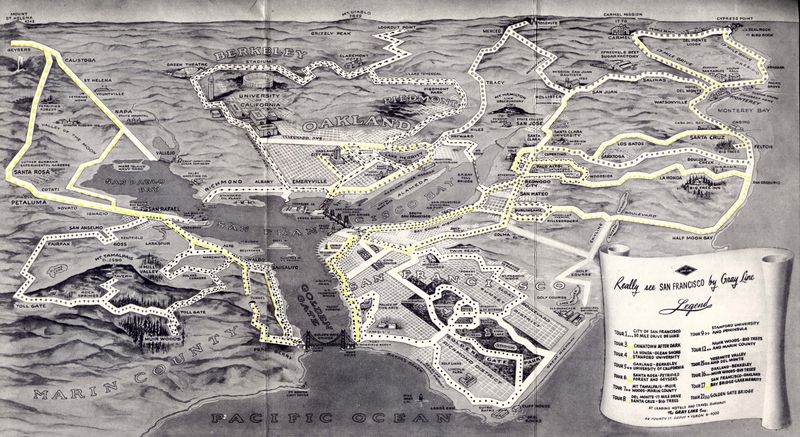 San Francisco still has
Gray Line offering bus tours of their beautiful city
, all these years later.
The map above is from 1953,
from a pamphlet called "Really See San Francisco." I'm just including the map here, but the rest may follow someday. Nearly 60 years ago, here's what the attractions via a bus tour were:
Deluxe 30-mile drive around San Francisco
Chinatown After Dark
La-Honda, Ocean shore, and Stanford University
Oakland, Berkeley, and U of Calif.
Santa Rosa, Petrified forest and geysers
Mt Tamalpais, Muir Woods, and Marin County
Del Monte, Santa Cruz
Stanford University and peninsula
Muir Woods, big trees, and Marin County
Yosemite Valley and Del Monte
Oakland, Berkeley, Muir Woods, big trees
San Francisco, Oakland, Bay Bridge, Lake Merritt
Golden Gate Bridge
All you had to do was dial Yukon 6-4000, and you could hit the road in style! I'm impressed that
Del Monte
was such a large part of the various tours -- post WWII, it had mostly been taken over by the Navy School, although all the land around the hotel was full of gardens, woods, and golf courses, still accessible to tourists at the time. "Chinatown after dark" is an interesting name: while the tour, given the clientèle of city bus tourists, was probably quiet and unoffensive for the time, I wonder if it was tied-in to
the movie of the same name from 1931
.
As for the map itself: I'm a fan of purposeful maps, ones that don't spare the information about what it feels relevant, but ignores the irrelevant whenever possible. This isometric view includes landmarks and gives a nice sensation of distance, which then also lets riders know how much time will be spent looking out the window at non-landmarks.
Labels: 1950s, 1953, california history, gray line, maps, san francisco