4H in Downtown Moorhead, Minnesota, 1961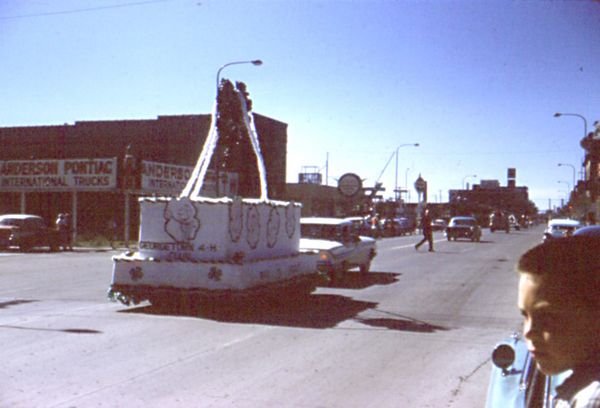 This photo was taken
, looking west, down Center Avenue in Moorhead Minnesota, in 1961. These floats, all from 4Hers around Clay County, were on their way to the 4H Roundup in town.
Much of what's seen here is still around
, despite the flurry of Urban Renewal a few years later (most of that happened just off to the right of the photo) -- in the distance, that tall sign is the
FM Hotel
, now an office building; the sign now has the US Bank logo. That building in the foreground, with the Anderson Pontiac sign, and the building next to it, are still around, but I'm not sure what's occupying them now.
see also:
older Washington 4H parades
*
Cali 4H in the 20s
*
Moorhead Center Mall history
Labels: 1960s, 1961, 4h, minnesota, minnesota history, moorhead, parade