Maurus Jokai In His Vineyard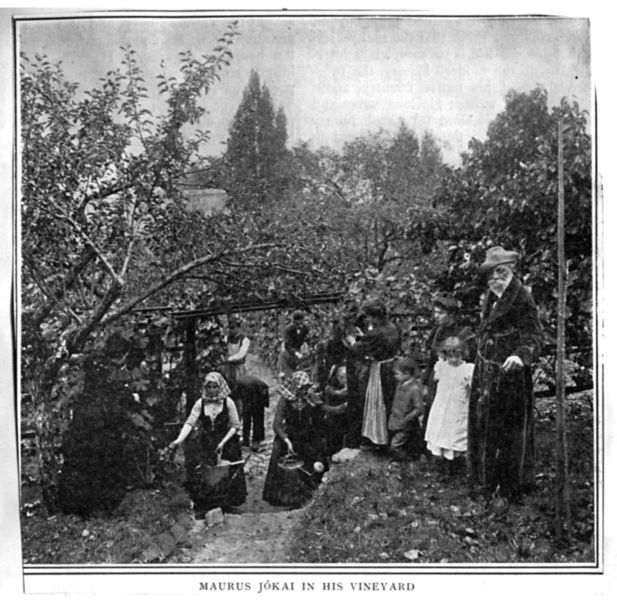 Here we see elderly Maurus
(on the far right) in his vineyard, surrounded by family and servants.
Maurus Jókai
-- or, more familiarily, Jókai Mór, was one of the most famous Hungarian novelists. As with many novelists devoted to the love of their country, Jokai was politically active..eventually running afoul of the Habsburgs and fleeing to Russia. Twenty years later he returned, continuing to write but also assisting in the country's new independence as a governmental adviser. Later in life, he lived in Balatonfüred,
known for its beautiful villas alongside private vineyards
-- this is probably where the above photo was taken.
Now, we have this picture. We know it is from the early 1900s, but no later than 1905 (based on inspection of
other photos in the Scrapbook
). Jókai was well-known in the US because many of his revolutionary compatriots ended up here in the 1840s and 1850s, but the timeframe brings us to a more poignant point in Jókai's life. In early 1904, at 79 years old, Jókai developed difficulty breathing and became greatly ill.
On May 5th, 1904, he passed away
. I would expect that the magazine article that this photo accompanied was a profile on the recently-deceased author, showing him in a setting other than posing for a portrait.
Labels: hungary, jokai mor, maurus jokai, novelist