Cape Cod Illustrated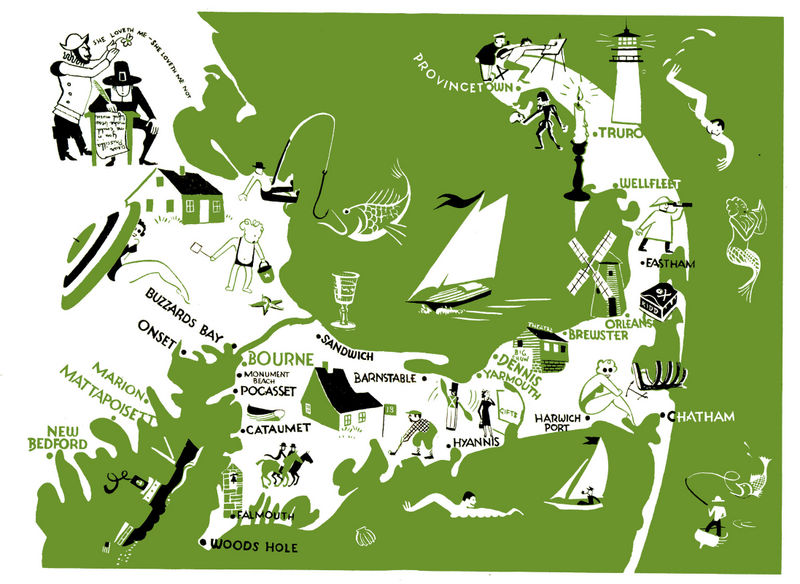 This map
, short on words but large on illustrations, diagrams just a small portion of Massachusetts known as Cape Cod. It was printed as part of a booklet by the New York, New Haven, and Hartford Railroad Co (which, in turn, was part of a 7-booklet set covering the entirety of the railroad's reach). The booklets were designed for tourists and encouraged them to contact the railroads internal 'travel bureau', as though East Coast residents had no idea the Cape was known for its beaches and fishing -- although its target was probably not locals, but folks like me from the flyover states who'd be intrigued by the treasure chest marked "
Kidd
". I had no idea his lost treasure was marked so clearly on local maps!
Iron Horse Tour of the Railroad Club of Chicago, 1964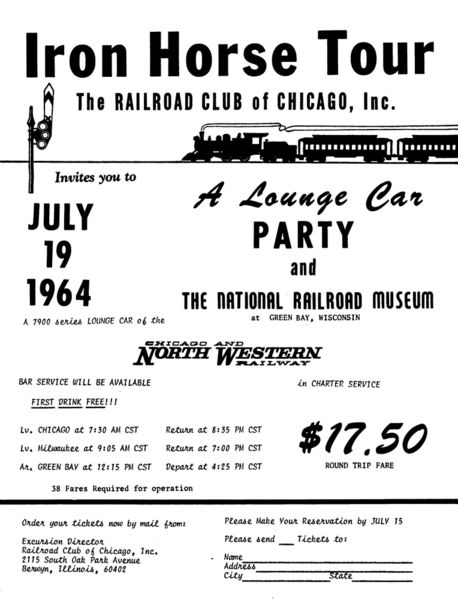 On
July 19, 1964
, a group of railroad aficionados piled aboard a
7900 series lounge car
belonging to the
Chicago and North Western Railway
, en route to the
National Railroad Museum
in Green Bay, Wisconsin.
The Railroad Club of Chicago
sponsored this 'lounge car party,' bringing along friends from Milwaukee along the way, and providing one free drink in the fare. I imagine that a car-full of railroad guys -- at least 38 of them -- in a moving bar for five hours straight were a mighty friendly bunch when they disembarked in Green Bay. I'm pleased to see that the club is still around. Too often, 'archaic' clubs like these dwindle in numbers as their members age and fall away, but railroad people are an odd bunch; the romance of the rails meets men's natural affinity for huge, loud, mechanical machines, and you end up with some fun-loving guys who'll pile on a train and road-trip to Green Bay to see more trains. Today, they promote rail travel, discuss community history revolving around trains, and remind everyone that, even though trains are disappearing, they meant a lot to the United States we live in.
Labels: 1960s, 1964, green bay, National Railroad Museum, railroad, Railroad Club of Chicago, wisconsin history